City Works Press Films
Presents
Fotoaktion!
Thursday, September 25th, 2008
7:00 pm
At the Museum of Photographic Arts in Balboa Park (San Diego, CA)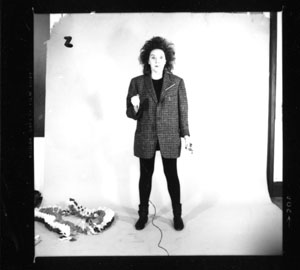 Doris "Boris" Berman is the subject of Fotoaktion! a documentary film that traces her evolution from teen-age Austrian pop star to avant-garde photographer and San Francisco art noise diva. Fotoaktion is the term Berman used to describe the interactive events she first staged as an art student at San Francisco City College in 1981. Her fotoaktion idea has its roots in the Happenings of the 1960s and even more specifically in the movement called Vienna Aktionism that occurred during the same time. The film follows Berman and Perry Vasquez, who produced and directed the film, as they prepare to collaborate on a fotoaktion at the Museum of Contemporary Art San Diego. Vasquez first met Berman in 1981 while he was producing Nihl Magazine at Stanford University where he published her photos and assisted her at her early fotoaktions. Along the way, the film also takes us on a mini-tour of the San Francisco 80s underground art world through a series interviews and archival videotape. In one segment we see Berman directing a fotoaktion performance. The performance, complete with primitive video editing effects, captures the experimental iconoclasm and spontaneous spirit of the times. Artist/musician Walter Alter, Berman's partner in crime on a variety of projects throughout the 80s, also appears in the film. Crackling with creative energy and verve, Fotoaktion! is a candid and revealing portrait of Doris Berman as a young punk rock performance artist and the world around her.

Fotoaktion! was directed and produced by Perry Vasquez, co-directed and art directed by Andi Brandenburg and edited by Akira Chan.

Fotoaktion! is a City Works Press Production.

More about Fotoaktion! on Perry Vasquez's Website

City Works Press is a non-profit press, funded by local San Diego writers and

friends of the arts, committed to the publication of fiction, poetry, creative non-fiction, and art by members of the San Diego City College community and the community at large.